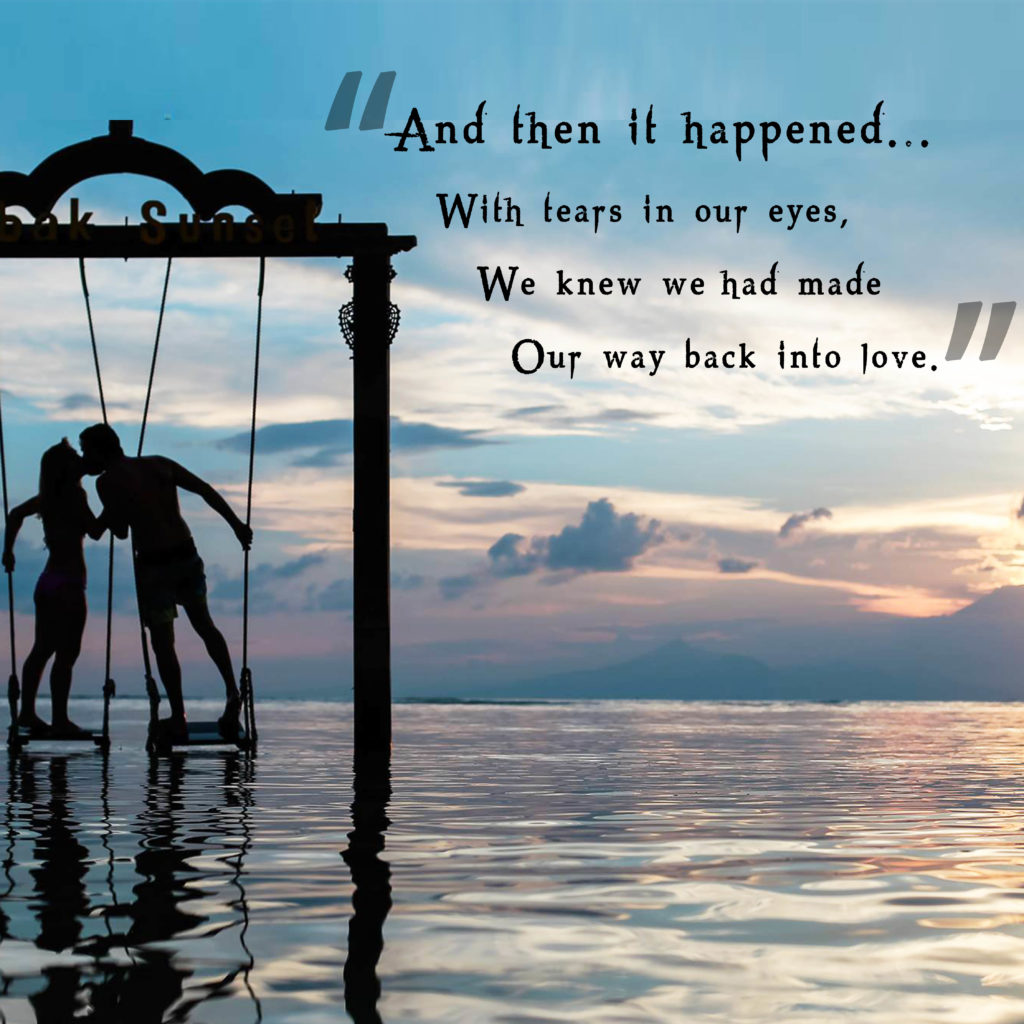 There we were… he on his knees and me holding my head. After fifteen years of marriage, I had just told him if he were in a line-up of potential spouses, I would look right over him. I'd choose someone else. I didn't know him anymore.
How could we have gotten here?
Yes, I was recovering from a terrible accident… brain injury, surgeries, massive confusion as to where my life was going. And yes, it was clear now, I had had a complete personality change as far as my beloved knew me. If he wanted his old wife back, it wasn't going to happen. She had died in the car that day two and half years earlier, leaving both of us grappling in the present.
What am I to do, God? I screamed. How can I fix this? He's so angry at me, I don't want to be here anymore. I felt my rage in all my broken places.
And then, as if God was reaching out to me, a sliver of shimmering light snuck through the cracks of my muddled brain, "Ask for help" was the message carried on the light.
Yeah, who can help me now? They're not going to be able to bring me back to who I was! He wants HER, not me! I cried. I prayed some more, and then some more. God, what if he never wants me again? What if I don't ever recover from this? What if…?
"Ask for help." became the response to my every plea.
For all of our relationship, we'd always described our marriage as a 3-ply rope: him, me, and God. We told others that was the secret to our bliss. But now, the rope had unraveled and I was swallowed up in self-pity, hurt, and rage, as was he.
Finally, I confided in a sister in Christ. She shared her "falling into the abyss" story of her marriage and shared the name and number of a counselor—one who loved the Lord and loved saving marriages, but not in the typical sit-on-the-couch-and-tell-me-your-problems way.
As my heart raced, my voice trembled, yet I croaked out the words, "Do you want to go to counseling?" Expecting him to tell me where I could go… He said, "yes."
God was with us the entire time we struggled. He taught my husband acceptance of the new me, and me, compassion for my husband's plight. No one expects to lose their wife while she's still living, right?
God opened our eyes to the love we shared before we built our respective walls. He spoke to each of us, independently. We started sharing our thoughts and fears together instead of running to our separate corners. We started praying for God to bind us together as we once had been. We started forgiving ourselves and each other for things beyond our control.
And then it happened… with tears in our eyes, we KNEW we'd made our way back into love.
We were a strong 3-ply rope… him, me, and God.
-Rachel Sheridan
6,123 Comments